Fedhill brake line out-brakes the competition!
We have been providing the finest quality brake line products available to both manufacturers and individuals since 1995. Since then, the marketplace has been flooded with cheaper imitations. Major U.S. corporations are making claims stating that their copper/nickel tubing meets the SAE specification J1640 for copper/nickel tubing. Customers calling with problems using the imitation tubing alerted us to investigate the competition. If you've been looking at the lower priced competition, please take the time to consider why our tubing is more expensive and how that benefits you.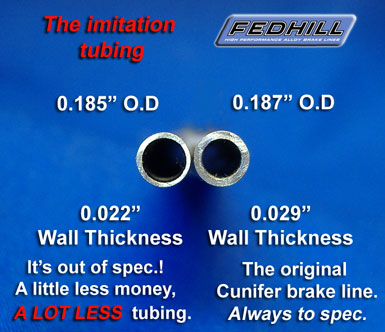 We purchased samples to find out what the problem was and found that the competitions claims are as flimsy as their tubing. The bare minimum specification for wall thickness is .025", the middle of the spec. is .028" with a max of .031" Our samples of their tubing measured at .022", and some customers have reported a wall thickness of only .019"! The .003" variance between the .019" and .022" samples was surprising, and the fact that it is nowhere near specification is alarming.
Working directly with manufactures for all these years, it's no secret to us the problems with making and assembling pressure conductors (brake lines), and the burden our product bears. Even when every component IS in spec., there are 1 out of a thousand joints that fail everyday on the assembly line, and the industry is working hard to improve on that. Please read this white paper from the SAE to learn why.
"Sealing Robustness Improvements for Automotive Brake Tube Joint Systems SAE J2879"
Click here to view the SAE white paper.
Their tubing should cost less, a lot less. There's between 28% to over 45% MORE metal in our tube than theirs. Our tubing is not made to the bare minimum specification but manufactured to a tighter tolerance from the medium to the maximum of specification. Generally speaking, our tubing is more better :)
It doesn't cost that much more for the very best. More metal in your brake tube and more security for those who want the best. This causes fewer problems and less headaches with your installation.
This is how the best of the U.S. Corporate competition measures up, and then there's the tubing made in Mexico, China and India that's flooding the marketplace.